Meet Daniel, Director of Brown Shoes Productions
If you've been following our 'Who's new on Mr Theodore' you would have noticed the recent addition of Brown Shoes Productions, a Melbourne based wedding photography studio capturing stunning weddings from all over the globe. As an introduction, we chat with Daniel the director of Brown Shoes Productions to learn a little more about him and the ethos behind his wedding photography.
-
Give us a little introduction, who are you and what do you do? Hi, I'm Daniel and I'm the Director of Brown Shoes Productions.
I grew up in a loud, crazy southern Italian household in the north-eastern suburbs of Melbourne. So … some of your assumptions about me are probably correct already. Yes I love football, my Mum is the best cook in the world and I have more cousins than the population of Hawaii! You can also fairly assume one more thing; I have celebrated A LOT of weddings.
I completed a Bachelor of Photography at RMIT University and followed my dream to work in London where I worked with some of the biggest Fashion & Advertising photographers across Europe & USA. I continue to work in fashion & advertising photography here in Australia and love taking shots on my travels too - www.danielmazzarella.com
How did you fall into the world of wedding photography? When I returned from working in Europe a number of friends & relatives asked me to photograph their weddings. At the time, wedding photography seemed to be undertaking a transformation in style - out with the old glamour & dramatic posing and in with the new natural & documentary style. I was absolutely drawn to this. It was fun, honest, creative and a real match for my style of shooting.
Since then I haven't looked back, photographing hundreds of weddings in Australia & overseas. What started out as a little side business, in 2013 launched into Brown Shoes Productions.
Your photography is beautiful, tell us a little more about your unique approach… I think photographing weddings is a balance between preparation and spontaneity.
I do some planning ahead so that we can get the best light for our photos and be ready with a range of unique locations up our sleeve. This helps to work efficiently and use our time effectively within the constraints of the wedding schedule. I love to get input from the couple along the way to make sure we are capturing their essence and incorporating their ideas.
I also leave a lot of space for spontaneity which gives us (couple and me) the space to be creative and inspired on the day. I love the natural, candid moments so I do my utmost to make sure everyone is relaxed and enjoying themselves. I don't mind throwing in a prop or two to get everybody in the right mood if needed.
Do you photograph weddings all over Australia? Absolutely! I have shot weddings in cities, countryside, beaches, farms and backyards all over the country. I have had international destinations as well (personal favourites!)
Any tips for couples deciding on a wedding photographer? Make sure you meet your wedding photographer before you commit to anything. A wedding photographer plays a pivotal part in your wedding day, as you share 95% of your day together. If you are on the same page and feel comfortable with them, it is the perfect recipe.
What can couples expect from working with you? I like to think I'm a pretty good guy, with a relaxed approach - I make people comfortable and I communicate well. I am inconspicuous on your wedding day, focusing on capturing the day in a candid & chic style. My job is to capture you at your best, and I can only do that by ensuring you are relaxed and most importantly, you are having fun!
I have had a lot of experience shooting weddings so I can provide lots of tips and guidance if needed and also love incorporating your ideas and special requests.
And lastly, in your opinion, what makes a perfect wedding? One that is an honest reflection of the couple and has their values and characteristics in every detail.
I can speak from experience when I say my wedding day was one of my favourite days of my life. My wife and I did exactly what we wanted, we enjoyed the planning part rather than viewed it as a hassle and we had so much fun on the day! You hope to only get married once in your life, so enjoy every bit of the experience.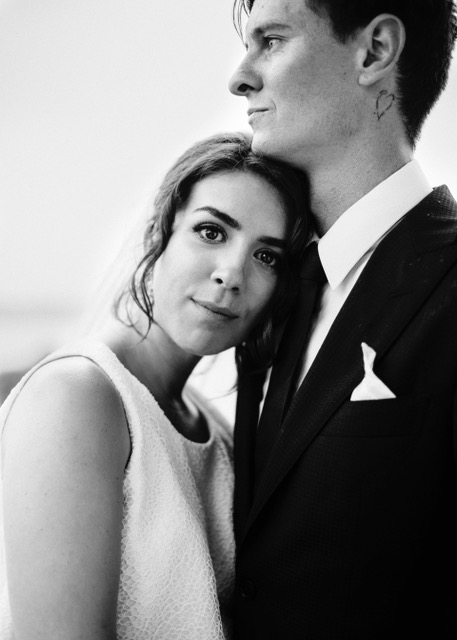 Click below to see Brown Shoes Productions on the Mr Theodore directory